Recently we spoke about climate changes affecting life in coral reefs. This time, however, scientists agreed that fish have abilities to adapt to changing conditions.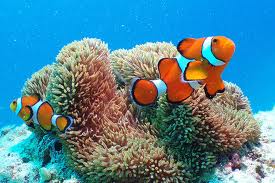 During an experiment, two anemonefish (mostly known as Nemo 😉 ) were forced to live and breed in a water with different temperature. Even though the species were more stressed and it cost them a lot more energy, they managed to reproduce.
Also, newborn fish that started their lives in less friendly environment, managed to grow and develop normally.
It has been discovered, that fish parents are able to decide on their offspring genes, so that the offspring is already adapted to the changed environment.
Scientists call it epigenetics – chemical alterations to portions of DNA that control gene activity. However, even if parents can control their children's genes, they are still affected by climate change and pollution.
For more detailed information go to http://www.sciencenews.org/view/generic/id/341931/title/Climate_adaptation_may_be_a_family_affair

Tags: Belovezhskaya Pushcha, berg, best, chelyabinsk, chemical substances, child, dangerous, dangerous situation, dolphin, donate, Dracula, Dracula ants, drink, drinking, drive, drugs