As it was confirmed by scientists, deforestation reduces the amount of rain and can be a cause of drought – as says the research ran by team from the University of Leeds and the NERC Centre for Ecology & Hydrology.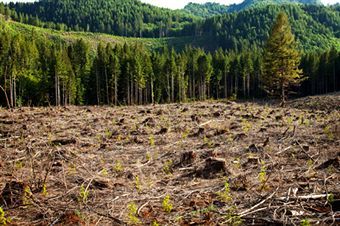 According to their observations,  deforestation in a massive scale such as in Amazon region or Congo may reduce the amount of rain in such a degree, that it could lead to catastrophic consequences. Provided that the deforestation scale will be the same until 2050, there will be only one-fifth (21% to be exact) of rain during dry seasons. It may have harmful effect on places inhabited by humans, in areas that strongly depend on the rainfall.
It is because plants put moisture back in the air through their leaves, and this process is called evapotranspiration.
Scientists used observations from NASA's satellite to examine the amount of deforestation and humidity in the atmosphere. They agreed, that it is important to support initiatives that protect rainforests, especially if they are important for many people to live and develop. Like Brazil, for example, that reduced the deforestation across the Amazon forest.

The question is – do you know any local forest-protecting initiatives near your living area? If you do – please share that information here, on Greenzoner. Also, feel free to comment and discuss!
Tags: bag, Belovezhskaya Pushcha, berg, best, camels, chelyabinsk, chemical substances, destroy, final redemption, final showdown, find, finish, finished, greenzoner