Hello Greenzoners!
That is important information for these users who have enabled integration with facebook.
We improved our technical features on Greenzoner, guaranteeing better safety, and, of course – better communication with users. 😀
So now, if you want to partake in our contests and inform your friends on Facebook (for example, GzEcoArticle or GZBlog), you need to fully integrate your Greenzoner account with Facebook by GZConnect application. Otherwise you won't be able to receive EEP for liking our fanpage and other Facebook-related activities.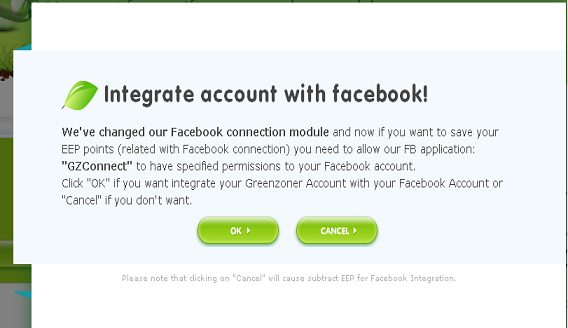 After this window pop up appears – click "OK" – if some error appears, let us know!
You can check if you're connected by going to "Get EEP" tab.
These changes will be fully deployed tommorow.
Tags: art, Belovezhskaya Pushcha, bioenergy, globetrotter, greenzoner, networking, new, new discoveries, new functionality, news, prizes