Dear Greenzoners! Judging by the most of the answers to the last question, most of you prefer bicycle as a non-polluting mean of transport. 🙂 But have you heard about the newest project of ecologic bicycle?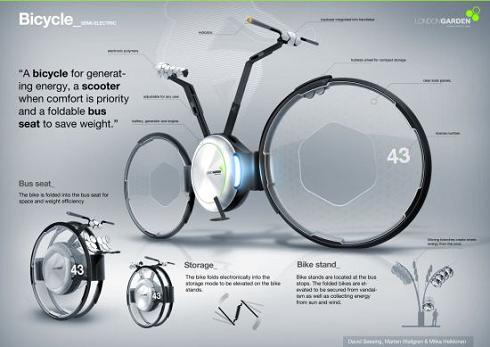 This bicycle is powered by solar energy, so when you are too tired to keep on pedalling, you just use the battery. That lets you travel long distances without using a car.
The bike itself can be folded – so it is easy to keep in a small area or to move it somewhere else. 🙂
For now these are just projects, but there is a plan to make a zone in Central London, where only bikes will be permitted as the means of transports. There are also going to be places when you can rent or buy this kind of bike.
Found on http://blog.ideas4all.com/2009/09/11/future-city-mobility-ecological-bicycles-and-much-more/.
We find this idea really amazing.  🙂 And what do you think, Greenzoners? Will it replace cars and other traditional, yet pollutive ways of transportation?
Tags: Belovezhskaya Pushcha, best, bios, brain, Brasil, breathe in, brightsource, britain, greenzoner