Sea otter is a specie of a mammal that lives on the coasts of northern and eastern Pacific Ocean. They belong to the weasel family, and are able to live on the land, but most of the time, they spend their lives in water.
Scientists recently discovered that sea otters have a great abilities that can help our environment. Because they feed on sea urchins, it keeps the kelp population balanced.  It helps reduce the amount of CO2 in our atmosphere, especially if there is starting to be  too much CO2, emitted by industrial areas, exhaust fumes and greenhouse gases. That means sea otters are able to prevent from global warming!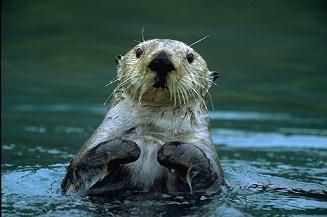 Chris Wilmers and James Estes, who discovered this connection, stated, that for now, there is no plan of using animals in any existing global warming-preventing project. But, after this research, they said that animals have great abilities to repair the damage that humans caused to the environment. The research was done by comparing two kelp populations – one with sea otters around, one without. When otters are around, sea urchins hide in crevices and eat kelp scraps. instead of grazing all over them. That takes effect on kelp's density, which leads to the change of the amount of absorbed CO2.
Right now, there is not very many sea otters. Because of extensive hunting for their fur between 1741 and 1911, their population decreased to the amount of 1,000–2,000 individuals. They are classified as endangered species.
Tags: Belovezhskaya Pushcha, berg, chelyabinsk, chemical substances, creature, flowers, fluorescent gunk, foes, food, for, forest, forests, form, formation, forrest, fossil, found, France, free, free contest, free gift